Overview
Workforce Development Applied Research Fund (WDARF)
The Workforce Development Applied Research Fund (WDARF), a national-level research fund offered by the SkillsFuture Singapore Agency (SSG), aims to foster high quality and rigorous applied research in workforce development and lifelong learning to support the SkillsFuture Singapore Agency's key thrusts and national-level policies. It encourages inter-disciplinary research and seeks to strengthen research capabilities, through leveraging both local and international expertise.

The WDARF Grant Call is administered by the Institute for Adult Learning (IAL) on behalf of the SkillsFuture Singapore (SSG). The grant is awarded through an open, competitive bidding approach, where submitted proposals go through a technical expert review and evaluation, before they are presented to a Research Committee for approval.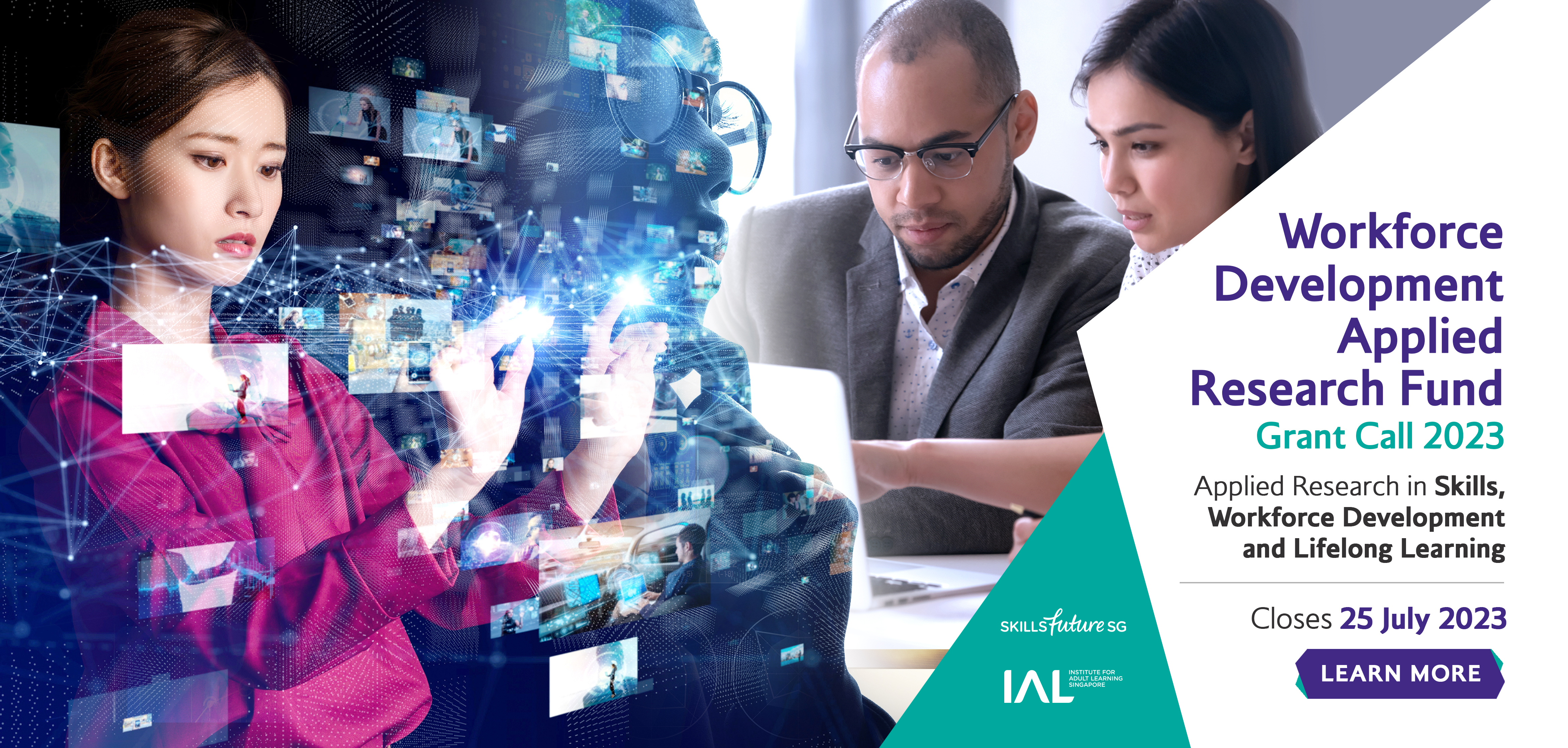 Scope
All Expressions of Interest (EOI) can address one of the three research themes, the 2023 Challenge Statements or examine other topics related to CET, adult learning and workforce development. Firm-level research that examines companies' role in CET and CET's impact on companies should also be considered.
RESEARCH THEMES
Theme A: Developing Effective Adult Learning Pedagogies & Skills Development Strategies
This research theme focuses on enhancing the effectiveness and impact of adult learning and skills development approaches, via technology, improved andragogy and innovations in both learning and practice. Given that training and learning are also situated within the evolving needs of industry and the economy, research under this thrust should also consider the role of enterprises and their partnerships with training providers in developing and contextualising teaching and learning approaches.
Theme B: Facilitating Learning and Career Choices among Adult Learners
This research theme identifies the key factors influencing CET decisions and those related to career and employment, including the understanding of cognition, emotion and behaviours of all stakeholders concerned (i.e. individuals, employers, educators, career facilitators, policymakers). Cultural and socio-environmental factors, and the varying needs and differences among different adult learner groups (such as mature and vulnerable adult learners) including aspects of accessibility, adaptability and appropriateness should also be considered.
Theme C: Enhancing Employment Outcomes through Adult Learning and Skills Development
This research theme aims to generate insights and provide recommendations for sustaining Singapore's competitive advantage in the global economy through adult learning and skills development that enables Singaporeans to access good jobs, earn good wages and stay employable. Research should be directed at examining emerging jobs and skills, returns and other benefits of skills development strategies, and exploring interventions (e.g. behavioural insights, financial and non-financial incentives) to guide locals towards better leveraging of learning and better employment outcomes.
For details on Research Themes, please refer to the WDARF Research Focus here.
CHALLENGE STATEMENTS
Challenge Statement #1: Overcoming barriers to participation
How can we better understand barriers and motivations faced by different learner groups (e.g. by age, qualification level, Socio-Economic Status, specific vulnerable segments such as persons with disabilities) in participating in CET? How can we better support and encourage/nudge these groups to advance their skills/training development journey through signposting, incentives and government programmes, and/or enhanced education and career guidance or any other proposed means? What are some inventive ways we can adopt to overcome any barriers to participation in lifelong learning?
Challenge Statement #2: Don't PET the CET
What are the differences in learning and training approaches between that for working adults and pre-employment training? What principles of learning and training apply well to working adults but not pre-employment students? Conversely, what pedagogical/andragogical principles can apply well to both demographics? What relevant pedagogical/andragogical approaches are we able to create which focus on honing the learning of working adults?
Challenge Statement #3: Digitalising adult learning
How do we define and measure "good" use of the digital medium for adult learning? What modes – synchronous/asynchronous; hybrid/single-mode; gamified etc. – are most effective under what circumstances? How may we best harness the digital means to strengthen adult learning?
Challenge Statement #4: Every workplace a learning workplace
What companies succeed in building a learning workplace for themselves? How can the rest be helped? What modes of workplace learning (e.g. OJT, WSP) work best under what circumstances? How may we best enhance workplace learning opportunities – formal, informal and non-formal – to make workforce learning a norm for all?
Key Evaluation Criteria
Relevance
Impact
Technical Merits
Project Team and Execution
Eligibility Criteria
The research must be conducted in Singapore, and on Singapore. The grant call is open to researchers in Singapore's Institutes of Higher Learning (IHLs). Foreign institutions and researchers may partner a Singapore institution to submit proposals for the grant call.
Application
All interested applicants must submit an Expression of Interest (EOI) by 25 July 2023 using the form below. Only shortlisted applications will be invited to submit full proposals.


Please read the below documents carefully before proceeding with your application.
FAQs & Contacts
Please refer to the FAQs for more information. For further enquiries, please email the Research Division at research@ial.edu.sg.