Ongoing Research
Employment Vulnerability (EV) of Tertiary Graduates in Singapore

While most workers maintain stable employment over their career, an increasing proportion of tertiary graduates (i.e. those with polytechnic diploma and above) have been experiencing worsening employment outcomes even before the pandemic. These individuals face difficulties gaining employment or re-employment, and may be entrenched in short-term or casual work earning low incomes. This study seeks to provide further understanding on employment vulnerability in Singapore by examining the extent to which individuals experience EV, the nature of EV, the role that individuals and employers play in mitigating EV, and suggest possible intervention measures that can help to mitigate EV. Time-ordered sequential information is collected over an individual's work life span since graduation, on a multitude of variables that may affect employment or career decisions. The surveys is implemented on a large nationally representative sample with a focus on individuals with diploma and higher education and companies in industries that who are unemployed or left the labour force due to inability to find work.

Report Release on Jun 2022

Employment Vulnerability (EV) of Tertiary Graduates in Singapore

This study seeks to provide further understanding on employment vulnerability (EV) in Singapore, by examining the extent to which individuals experience EV, the nature of EV, the role that individuals and employers play in mitigating EV, and suggest possible intervention measures that can help to mitigate EV. This study collects time-ordered sequential information over an individual's work life span since graduation, on a multitude of variables that may affect employment or career decisions. Since data collected is sequential information, sequence analysis is the appropriate method to identify characteristics of various groups of individuals experiencing EV. The quantitative surveys will be implemented on a sufficiently large sample, a focus on individuals with diploma and higher education and companies in industries that are 'at risk' of displacing workers, to provide reliable data that permit segmentation, cluster analysis, sequence analysis and other econometric analysis.

Report Release on Jun 2022

International Survey of Adult Skills Cycle 2

This is an international survey designed to measure a range of skills that adults use in their work and daily lives – such as reading, finding information and using computers - as well as their education and work experience. It is the second cycle of the Programme for the International Assessment of Adult Competencies (PIAAC), an initiative of the Organisation for Economic Co-operation and Development (OECD). The first cycle was conducted from 2011 to 2018.

Report Release on Mar 2022

Skills and Learning Study (SLS)

Skills and Learning Study (SLS) is the third iteration of the Skill Utilisation series which aims to track skills utilisation in Singapore. Lifelong learning is a new area added into this iteration. This study will provide a set of continued skills utilisation measures in Singapore as well as a baseline measure of Singapore's level of lifelong learning.

Report Release on Jan 2022

Skills and Learning Study (SLS)

Skills and Learning Study (SLS) is the third iteration of the Skill Utilisation series which aims to track skills utilisation in Singapore. Lifelong learning is a new area added into this iteration. This study will provide a set of continued skills utilisation measures in Singapore as well as a baseline measure of Singapore's level of lifelong learning.

Report Release on Jan 2022

Business, Performance and Skills Survey, Wave 2 (BPSS W2)

This project aims to investigate the demand side of the skills market in Singapore by surveying commercial establishments on their business strategies, skills utilisation and performance. Understanding the links between strategy, skills and performance will aid Singaporean policy makers in building an effective skills strategy for the future. Importantly, as the second wave of the Business, Performance and Skills Survey, this study will provide a sense of the changing landscape in Singapore regarding skills utilisation and the demand for skills.

Report Release on Oct 2021

Business, Performance and Skills Survey, Wave 2 (BPSS W2)

This project aims to investigate the demand side of the skills market in Singapore by surveying commercial establishments on their business strategies, skills utilisation and performance. Understanding the links between strategy, skills and performance will aid Singaporean policy makers in building an effective skills strategy for the future. Importantly, as the second wave of the Business, Performance and Skills Survey, this study will provide a sense of the changing landscape in Singapore regarding skills utilisation and the demand for skills.

Report Release on Oct 2021

Training and Adult Education (TAE) Landscape 2

The Institute for Adult Learning is conducting a national Training and Adult Education (TAE) Landscape Study 2022 to gather information about the organisations and professionals working in the TAE sector. This current project, TAE Landscape 2022, is the second iteration of the TAE Landscape series and seeks to collect the latest data about the TAE sector from 2021 to 2023, e.g. changes in the profile of TAE organisations and professionals, TAE jobs and skills, as well as developments in TAE business and practice in relation to pedagogical innovation, business innovation, productivity, digitalisation and internationalisation. This project will be conducted in 3 phases.

Report Release on Mar 2021

Training and Adult Education (TAE) Landscape 2

The Institute for Adult Learning is conducting a national Training and Adult Education (TAE) Landscape Study 2022 to gather information about the organisations and professionals working in the TAE sector. This current project, TAE Landscape 2022, is the second iteration of the TAE Landscape series and seeks to collect the latest data about the TAE sector from 2021 to 2023, e.g. changes in the profile of TAE organisations and professionals, TAE jobs and skills, as well as developments in TAE business and practice in relation to pedagogical innovation, business innovation, productivity, digitalisation and internationalisation. This project will be conducted in 3 phases.

Report Release on Mar 2021

The Future of Jobs and Skills: the Impact of Automation in Singapore

The project provides a consensus assessment of the skills that are likely to be highly impacted by automation technologies within the next five years and the nature of that impact.

Report Release on Aug 2020

The Future of Jobs and Skills: the Impact of Automation in Singapore

The project provides a consensus assessment of the skills that are likely to be highly impacted by automation technologies within the next five years and the nature of that impact.

Report Release on Aug 2020
Grant Call Is Closed
Singapore Research Grant Call 2022 on Workforce Development and Lifelong Learning
The WDARF is a national level research fund established by the SkillsFuture Singapore (SSG) to encourage inter-disciplinary research in the areas of workforce development and lifelong learning. In setting up the research fund, SSG seeks to support evidence-informed policies and best-in-class practices that are underpinned by high quality, reliable and responsive workforce development research.
Read More



Our Research Team
IAL's research team consists of two units which are the Work and Learning Unit (WL) as well as the Skills, Performance and Productivity Unit (SPP).
Get To Know Our Team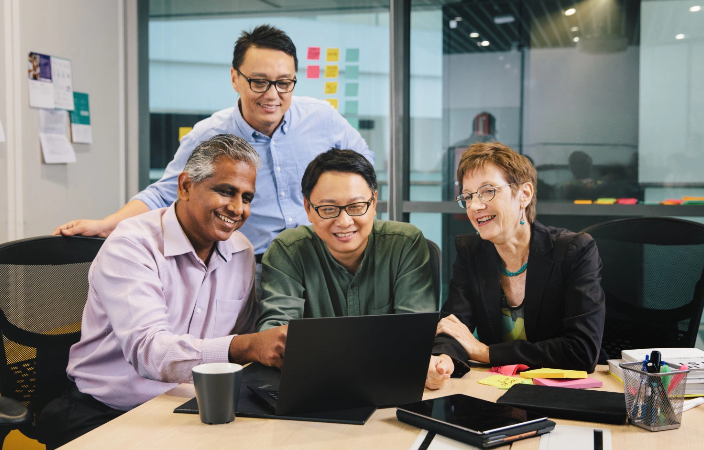 Digital Futures of Work
Digital Futures of Work is an international research programme dedicated to understanding the prospects for human augmentation, social inclusion and shared prosperity in the fourth industrial revolution.
Find Out More