Discover the wonders of Productive Failure
An experimental development project to translate principles of Productive Failure (PF) for Adult Learning.
The Innovation Centre at the Institute for Adult Learning, Singapore has embarked on an experimental development project to translate principles of Productive Failure (PF) for Adult Learning. The aim is to leverage these principles to facilitate deep learning amongst learners and contribute towards building critical core competencies within the Training and Adult Education sector.
The project involves on a select group of Adult Educators who co-develop a framework / toolbox / guideline on PF for Adult Learning through insights and findings from designing and trialing PF interventions in real learning environments.
Participants were selected based on the diversity required in the project.
---
What is Productive Failure?
An empirically tested deep learning pedagogical approach, PF1 embodies constructivist principles, where failure is deliberately designed into the learning, to imbue learners with resiliency and learning agility, much needed skills during this "reskilling emergency" that was raised at the World Economic Forum (WEF) Annual Meeting in January 2020, where it was said that more than 1 billion people need to be reskilled by 2030 as jobs are transformed by the technologies of the Fourth Industrial Revolution (World Economic Forum, 2020)2.
The PF learning environment is designed deliberately to bring about failure in a task so that learners have the opportunity to innovate solutions while exploring complex and novel problems. This guided exploration also allows learners to activate and differentiate relevant prior knowledge, generate multiple representations of problems, and thereby develop skills needed to solve "wicked" real-world problems.
---
To find out more about the relevance of PF to adult learning, IAL organized a special innovLogue session on 18 August 2022 with the purpose of creating awareness as well as brainstorming together on 'Leveraging Failure for L&D success'.
At this session, we bring together leading experts from Zurich, Switzerland, Singapore and Sydney, Australia were brought together to discuss and showcase how 'learning from failure', might be leveraged for learning and development. Watch it and do not miss out the in-depth panel discussion on PF for adult learning towards the end of the session. You can also watch the webinar innovLogue session here
---
How is the project structured?
The project is designed in 3 phases – experiment / evaluate, verify / validate and finally consolidate / finalize, as can be seen in the diagram below. The first two are iterations of design & development workshops. Each iteration includes, not just design & development, but also the trial and testing of interventions; following which the participating Adult Educators (AEs) convene to discuss and learn from each other to surface insightful practices and factors impacting the application of PF principles for Adult Learning.
This would, then result in artefacts and case studies which will further inform the TAE and shape our teaching practices and learning offerings. Participating AEs are expected to come from diverse backgrounds in terms of domain expertise and learner types to allow for as wide a field for experimentation and identification of key factors in PF design for adult learning, thus ensuring the final output would be practicable to the broader TAE community.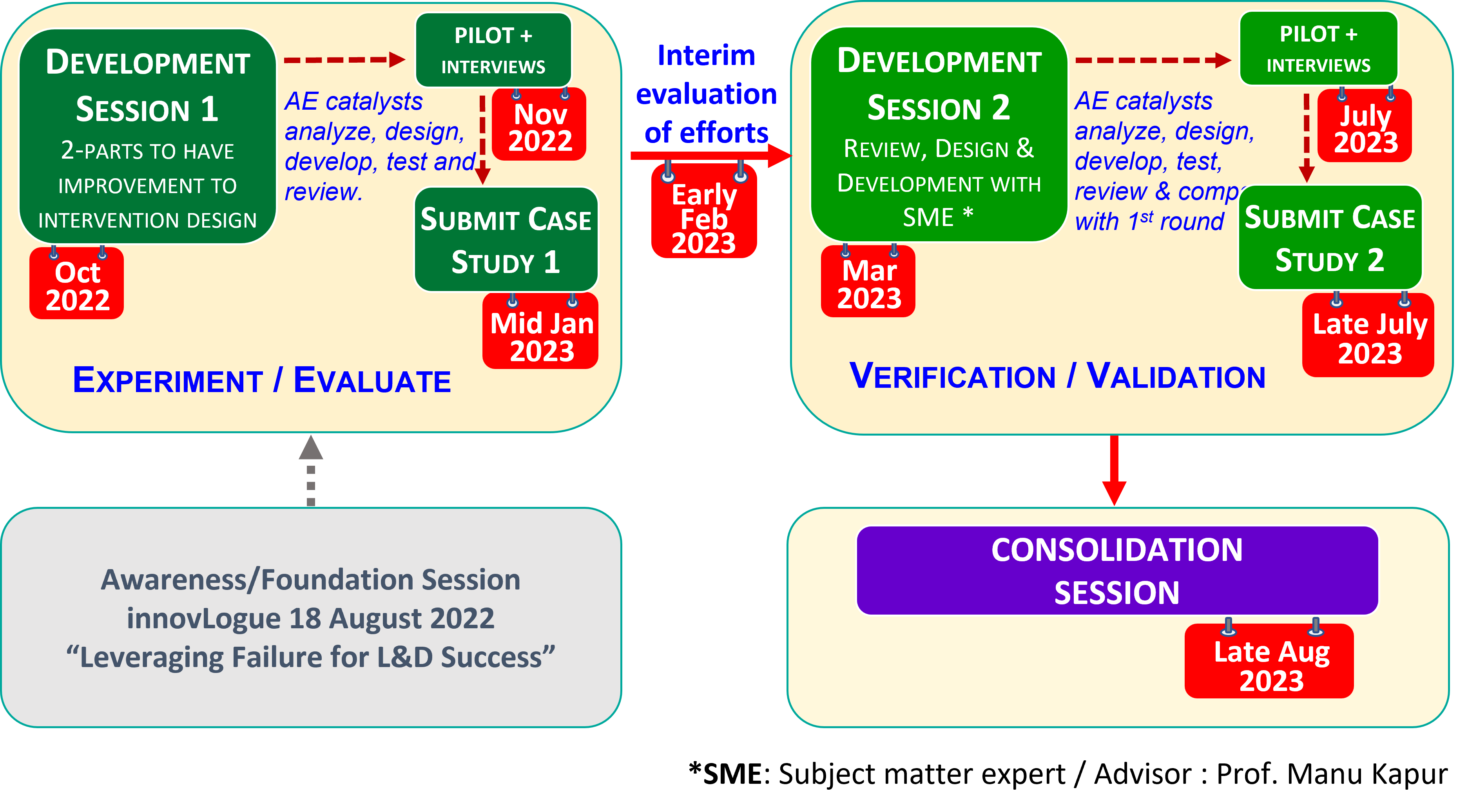 ---
Expectations:
Together with the project team, the subject matter expert, and other adult educators, each AE that also known as an AE Catalyst is expected to:
Design learning experiments using PF principles for one of their classes
Produce case studies on their learning experiments which include documenting learning journey, iterations of PF interventions, learner artefacts and reflections
Co-develop the new andragogical approach
Able to commit time and resources to the project and its duration; and
Able to analyze, write and produce case studies on the learning interventions that he/she has developed and trialled, regardless of the outcomes of the trials, which would include documenting the learning journey, iterations of PF interventions, learner artefacts and reflections- based on the case study template, provided.
The full Intellectual Property of the new andragogical approach will reside with the Institute for Adult Learning (IAL). Also, with respect to the case studies that are produced as a result of the project, IAL reserves the right to reproduce, publish and share the case studies.
---
Program Timeline
s/n

Milestone

Tentative Timeline

Venue

1







innovLogue to explore 'Learning from Failure' for adult learning: Lay the grounds to develop common understanding of PF principles

18-Aug-2022, Thursday (Completed) Recording Here

inlab, OpenSpace

Hybrid



PHASE 1 : EXPERIMENTATION (#2 to #6)





s/n

Milestone

Tentative Timeline

Venue

2




Development session 1(a): Design and development session, towards using PF principles to pilot in their selected class <Compulsory Attendance>

18-Oct-2022, Tuesday (Completed)

inlab Experiment Room,

in-Person




Lesson plans submission after Development session 1(a)

25-Oct-2022, Tuesday (Completed)

N/A

3




Development session 1(b): review and finalize intervention design & plan <Compulsory Attendance>

31-Oct-2022, Monday (Completed)

Online,

4pm - 9pm

4

Pilot interventions with learners <keep sometime to review/finalize, before embarking on the pilot>

1-Nov-2022, Tuesday (Completed)

N/A

5

Observation & Interviews Round 1, with AE's & learners from the piloted classes

1-Nov 2022, Tuesday (Completed)

in-Person and/or Online

6

Submission of case study, on the 1st round of interventions, designed, implemented and corresponding outcomes of the pilot

Within 20 days of pilot (Completed)

N/A



PHASE 2 : VERIFICATION (#7 to #11)





s/n

Milestone

Tentative Timeline

Venue

7




Development session 2 (a): incorporate insights from first round to improve the interventions to be developed and implemented for 2nd of design, development & pilot.

21-Mar-2023, Tuesday (Completed)




in-Person







8

Development session 2(b): Lesson plans submission post incorporating Design & Development session 2a's insight

12-Apr-2023, Wednesday (Completed)

Online, 3pm - 9pm

9

Pilot interventions with learners <keep sometime to review/finalize, before embarking on the pilot>

13-Apr-2023, Thursday (Completed)

N/A

10

Observation & Interviews Round 2, with AE's & learners from the piloted classes

~Apr-2023 (Completed)

in-Person

11

Submission of case study, on the 2nd round of interventions, designed, implemented and corresponding outcomes of the pilot

~Mid-May 2023 (within 20 days of the pilot, whichever is earlier)

N/A



PHASE 3 : CONSOLIDATION (#12 to #13)





s/n

Milestone

Tentative Timeline

Venue

12




Consolidation workshop (review outcomes of all the interventions and identify key factors and operationalization challenges of PF for adult learning)

~12-Sep-2023




Online







13

Submit insights on the proposed 'PF for adult learning framework'

~5-Nov-2023

N/A



---
Contact Us
For more information, please contact Ms. Nilanjana Saxena

www.linkedin.com/in/nilanjanasaxena/

(65) 6579 0326
1 As detailed by Kapur & Bielaczyc (2012), PF has a two-phase design: a generation and exploration phase (Phase 1) followed by a consolidation phase (Phase 2). Phase 1 provides opportunities for learners to generate and explore the affordances and constraints of multiple representations and solution methods. Phase 2 provides opportunities for organizing and assembling relevant learner-generated solutions into canonical solutions. The design is guided by the following core principles: (1) create problem-solving contexts that involve working on complex problems that challenge but do not frustrate, rely on prior resources, and admit multiple solutions; (2) provide opportunities for explanation and elaboration; and (3) provide opportunities to compare and contrast the affordances and constraints of failed or sub-optimal solutions and the assembly of canonical solutions. [Kapur, M., & Bielaczyc, K. (2012). Designing for Productive Failure. Journal of the Learning Sciences, 21(1), 45–83. https://doi.org/10.1080/10508406.2011.591717]
2 World Economic Forum. (2020). Why we need a global reskilling revolution. World Economic Forum Annual Meeting, 1–6. https://www.weforum.org/agenda/2020/01/reskilling-revolution-jobs-future-skills/