Bite-sized Learning 
We offer specific and concise learning on topics that we know are important for adult educators, individual trainers or someone who needs to engage their audience
---

innovBite provides informal and bite-sized learning on new and/or important topics for our stakeholders in Training and Adult Education (TAE) sector, from individual trainers, full-time employees with training responsibility, to full-fledged training provider. Each session is 30 min to 1 hour long and features a new topic to expand your horizon.
---
Event Lineup for the month of August 2022
Our August innovBite event is happening on 25th Aug, 12.30PM-1.30PM!
Due to popular demand, we're bringing back the topic "The Art and Science of Learner Engagement", along with our Speaker Mr. Bryan Tay!
In the Training & Adult Education industry, just as in management circles, we may hear a lot of innovative terms for saying similar things. Everybody just wants to sound different. From bite-size learning to micro to nano... and may I propose femto and atto ("billion-billionth") learning? Let's not waste time subscribing to more "sexy" terms to sound impressive and learned. Do we really not know that any knowledge we seek to impart to learners should be basically made Easy to understand, Engaging and Effective in a well-paced manner? With the advancement, availability and affordability of technology tools to support learning, learning delivery approaches have become more exciting than ever. Actually, we may already be spoilt for choice to the point of experiencing cognitive dissonance.
In this 1-hour sharing session, Bryan, as an Adult Educator, Industry Practitioner, and Technogogist, will share his thoughts and experience on making sense of practical learning approaches, combining the use of AI-technology tools and platforms to know your learner, impart the learning, monitor learning interest and maintain warm contact with learners even after the learning.
Mark your calendars now!
To register, click

Registration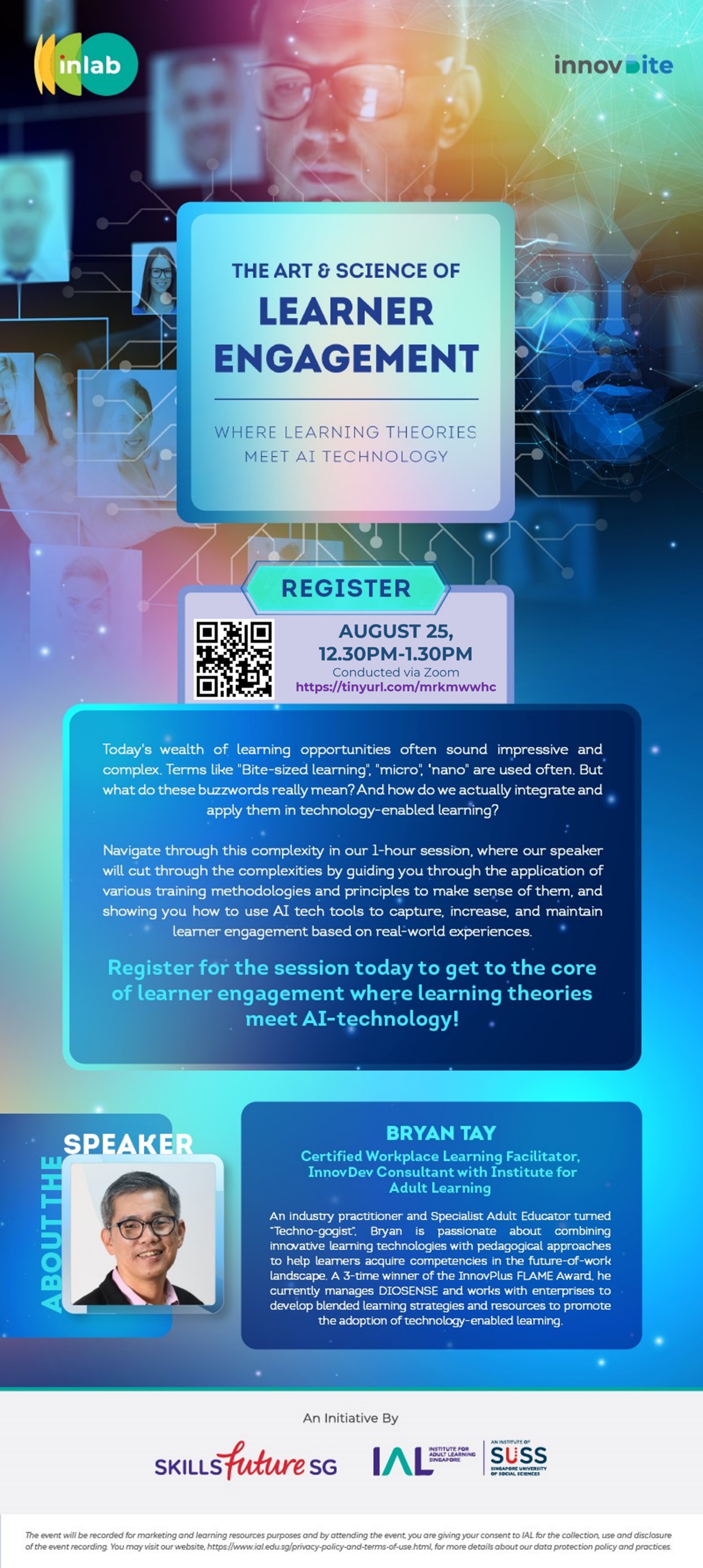 (Updated on: 15 August 2022)
---
Upcoming Event (September 22)
AR? VR? XR? Metaverse? Heard of these terms a lot but not quite sure what they mean exactly?
Join us in innovBite's September session on 22 Sep 22, 2.30PM - 3.30PM to find out more! Mr. Bala Murali, the Managing Director and Learning Architect of Agilitas Learning, would be sharing with us what is Metaverse, how to make use of it to create more immersive learning experiences in the learning context. Sign up today!
To register, click

Registration