Bite-sized Learning 
We offer specific and concise learning on topics that we know are important for adult educators, individual trainers or someone who needs to engage their audience
---

innovBite provides informal and bite-sized learning on new and/or important topics for our stakeholders in Training and Adult Education (TAE) sector, from individual trainers, full-time employees with training responsibility, to full-fledged training provider. Each session is 30 min to 1 hour long and features a new topic to expand your horizon.
---
Event Lineup for the month of March 2023
For this month's innovBite session, we will be featuring a fireside chat with Dr. Jim Wagstaff, Co-Founder and Chief Learning Officer at Noodle Factory Noodle Factory, on a hot topic recently... Conversational AI and its role in education! Join us online on 30 Mar, Thu, 12PM-1PM to find out more. Conversational AI has a strong ability to transform work and learning as we know it, and it has been happening for some time now. Dr. Jim will be sharing with us the impact of conversational AI in training, help us understand what GPT-3 is (which is also the model behind ChatGPT), walk us through 'Walter' the AI teaching assistant, and unpack the opportunities, risks and ethical considerations. Do not miss this session, sign up now!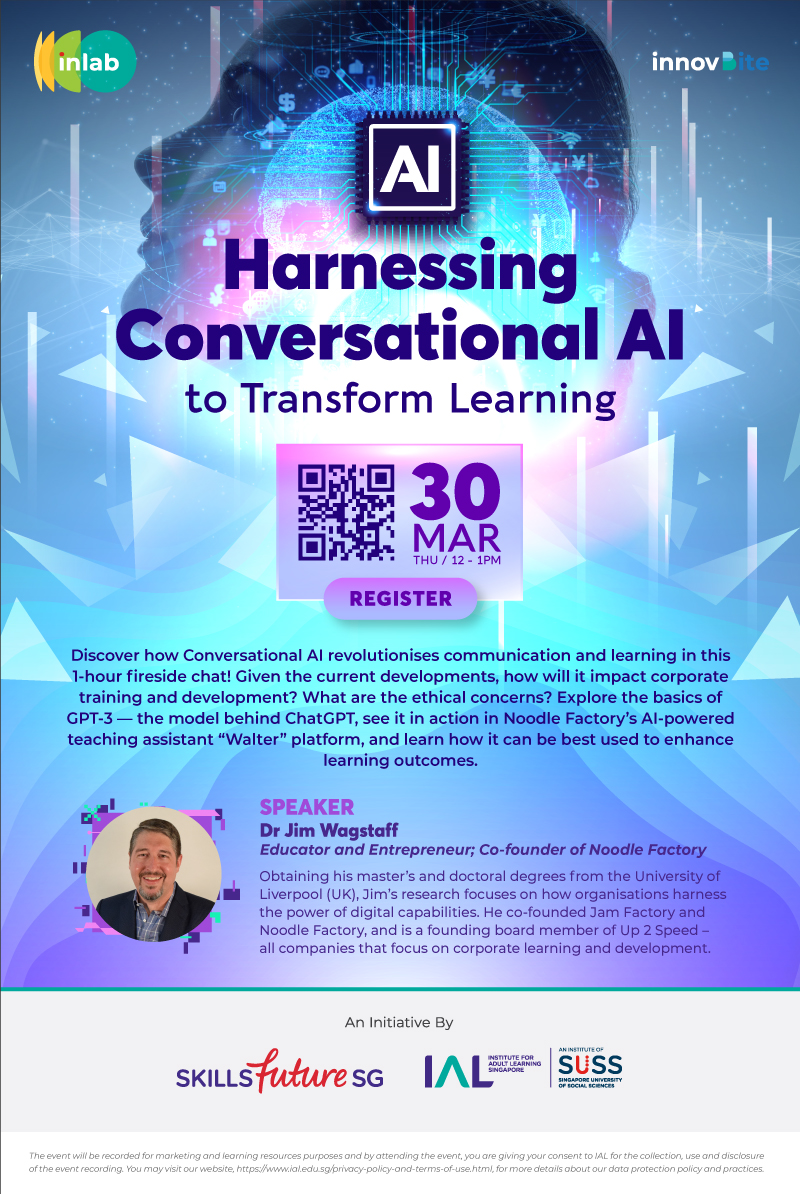 To register, click

Registration
Upcoming innovBite session
As manpower shortage is becoming increasingly severe, partly due to our aging population and declining birthrate, using robots is fast becoming a solution to curb this issue in different sectors. In April, we will be turning our attention towards how robotics is applied in manufacturing. Our speaker, Mr. Leong Yong Shin, from Augmentus, will take us through the different techniques that have been employed to ease robot programming and make robots accessible for everyone within the factories. This is a good opportunity to see real use case and application of robotics! Sign up now!
To register, click

Registration
Check out sessions from the previous months!
In the meantime, check out our January 2023 session featuring ClassDo, a Cost-Effective and Easy-To-Use (CEE) tool!
As we move from educator-centered mass lectures to learner-centered facilitation, the ability to deliver effective and engaging personalised coaching in a collaborative environment becomes increasingly important. We have thus curated a cost-effective and easy-to-use (CEE) tool, ClassDo, to be shared with you!
(Updated on: 10 Mar 2023)