Design Thinking - Learning Within GRASP
Joel Ng (Mr)
Course Duration: 7 hours
AEN Member
Total Course Fee
S$84.53
Non-AEN Member
Total Course Fee
S$253.59
Others
Total Course Fee
S$845.30
Course Dates
For groups of at least 15 people, customised run dates are available, contact us via the form below for more details.
No Schedules Available.
Effective adult education is dependent on the trainers' ability to design and deliver content in a way that focuses on the learner. Design thinking is an approach to problem solving which encourages innovation with an emphasis on empathy. Using the GRASP methodology, learn the foundations of design thinking and discover how it can aid in creating learner-centred training and learning experiences.
Notice
This is a fully online session conducted via ZOOM. Participants can participate in the session from any venue of their convenience with a laptop / device that is compatible with ZOOM. More details on participating in the session will be send to the confirmed registrants.
What Is The Session About?
Trainers and adult educators need to be able to put themselves in the shoes of their learners, setting aside personal bias and preconceptions to develop learner-centred training experiences. This demands an empathetic approach to problem solving and innovation.

Design thinking is a human-centred process that facilitates the creation of new and innovative solutions by considering the user's perspective. This approach offers adult educators the tools to develop more engaging and relevant training by providing opportunities to spark empathy, identify issues clearly, develop creative solutions, and gather feedback for rapid improvement.

In this interactive one-day workshop, you will be introduced to the fundamental concepts of design thinking. Following the Design Council's four-stage double-diamond model, you will be guided through the design thinking process. You will begin by examining the nature of design thinking, its potential benefits for business and innovation, and future applications of this mindset. You will then experience design thinking first-hand through an immersive case study that will challenge you to keep your personal biases in check, and take the leap of faith to consider a problem from your learners' perspective. With these insights, you will be taken through the entire design thinking process — Discover, Define, Develop and Deliver — and be introduced to effective research methods to identify personas, their journeys, and their pain points. Once you have formulated the critical challenge statement that allows you to see a problem from your learners' perspective, you will delve into creative solutioning and rapid prototyping, where you will exchange and brainstorm creative ideas, and learn how to visualise your top solutions. The process culminates in an ideas pitch to your fellow participants. This workshop is designed using Joel Ng's proprietary innovation and problem solving model, GRASP, which combines elements of design thinking, behavioural science, and lean processing, to provide a comprehensive introduction to design thinking for adult educators. This guided session and the constructive feedback you receive will give you the confidence to develop and design powerful learning experiences built around the needs of the learner.
---
What Does The Session Cover?

Be able to recognise the effects of activities-based design thinking workshops and training.

Be able to describe the tangible outcomes and manifestations of a successful design thinking workshop.

Be able to describe activities that can be used to facilitate learning of design thinking concepts.

Be able to apply activities as a practice format for design thinking.

Be able to use diagnostic tools to achieve empathy and clearer issue definition.

Be able to apply creativity tools to enhance problem solving.

Be able to apply prioritisation techniques to aid in decision making.
Who Is It Suitable For?
Adult Education: Individuals involved in learning facilitation, courseware development, learning technology design, learning consultancy, development of learning solutions, and curriculum leadership.
Learning Management: Individuals involved in learning support, product development, and learning systems management.
Learning and Development: Individuals involved in Train the Trainers (TTT) workplace learning and learning for adults in any industry
Course Funding and Policies
Payment
Please proceed to make payment via eNets/credit card (VISA or MasterCard) at the end of the registration process. Kindly note that the system will automatically cancel the registration if full payment has not been successfully processed by 11.59pm (Singapore Time) on the same day of the registration. You will have to reapply for the course, subject to availability of vacancy at the point of your re-registration.
---
Additional Funding Available, If Applicable
Singaporeans aged 25 years old and above are eligible for SkillsFuture Credit which can be used to offset the selected programmes' fees for self-sponsored registrations only.
Please note the submission period for your SFC claim via MySkillsFuture needs to be within 60 days before the course start date (date inclusive). If your course start date is more than 60 days from the date of SFC application, the SSG-SFC portal would reject your application. In this case, you would need to pay the full course fees at the end of your course application.
---
Rescheduling
Request for rescheduling imust be submitted to IAL 2 weeks before the commencement of programme. Reschedule requests that come mid-way through training has to be supported by valid reasons; substantiated by references as evidence; such as a doctor's note; or a hospitalization chit.
Please submit your request to reschedule your course at MyIAL. A non-refundable administrative fee of S$53.50 (with GST) applies for the request and the next available slot will be offered
---
Withdrawal
Request for withdrawal from a programme is subjected to review by IAL and the decision is final. IAL reserves the right to request for supporting document(s). A non-refundable administration fee of S$53.50 (inclusive of GST) is applicable for withdrawal request. If the withdrawal notice is given less than 2 weeks before the programme start date, the paid fees will not be refunded.
---
Corporate Run
For dedicated corporate runs with a contract signed with IAL, billing and payment will follow the terms of the signed contract. Otherwise, payment would be expected upon registration.
About The Speaker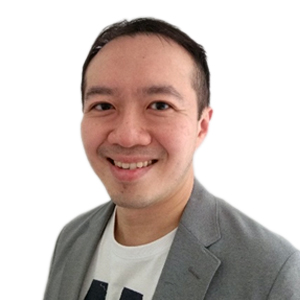 Joel Ng (Mr)
Master Trainer | GRASP Guru
Joel Ng has more than 13 years of experience as an innovator and problem-solving practitioner. He is trained in design thinking, service design, change management, behavioural insights, and lean processing. He applies his knowledge to help organisations deliver higher quality services to their clients, diagnose and solve systemic issues creatively to enhance operations, and surge ahead of the competition by opening blue ocean markets.
Joel is the inventor of, and Master Trainer for, the proprietary GRASP™ methodology that combines design thinking with behavioural insights and lean processing principles into a holistic problem-solving and innovation toolkit. He published Innovation within GRASP - the Ultimate Cheatbook in Innovative Solutioning, a Practitioner's Playbook for the GRASP™ solutioning process. The Playbook empowers individuals with the essential tools for practical product, process, and policy innovations. He regularly conducts workshops and leads consultancy projects to disciple private and public sector agencies in the mastery and application of GRASP™.
He is currently the CEO and Founder of GRASP Guru, specialists in design thinking and innovation.
Highlights of his career include taking on the role of Innovation Lead at Singapore's Ministry of Home Affairs (MHA) for homeland security. His team was responsible for nurturing and growing the innovation culture across the 26,000-strong force. His core work involved leading national-level projects to promote and improve emergency safety and security standards, such as the First Aider Marker (The Straits Times, 10 Sep 2017) and the Security Awareness For Everyone (SAFE) Programme. Joel introduced design thinking as the foundational language of innovation across the 10 MHA Departments, to complement the conception and implementation of MHA's strategic innovation framework – a coherent and coordinated structure to drive digital revolution, operational innovation, and public service transformation plans and initiatives.
Joel was also appointed a Senior Business Analyst for Service Design at the Smart Nation and Digital Government Group's Government Technology Agency (GovTech). His team was responsible for using Service Design to solve real-world citizen-focused issues. His key projects included helping overseas Singaporeans in distress and improving the livelihood of vulnerable households.
Joel is a certified Associate Adult Educator under the Institute for Adult Learning's Adult Educator Professionalism programme (AEP-AAE). He has 3 IDEO-U certifications in Foundations in Design Thinking, Insights for Innovation, and From Ideas to Action. He was a recipient of the Home Team Achievement Award in 2017 and the Home Team Operational Excellence Award in 2018.
He layers on his design thinking and innovation expertise with his experience in organisational development and in the engineering discipline. He has a Bachelor of Electrical Engineering from the National University of Singapore and a Graduate Diploma in Leading and Sustaining Change from Singapore's Civil Service College.
In his personal time, Joel is a veteran event emcee and accomplished acappella singer. He currently resides in Singapore.
Enrol Now