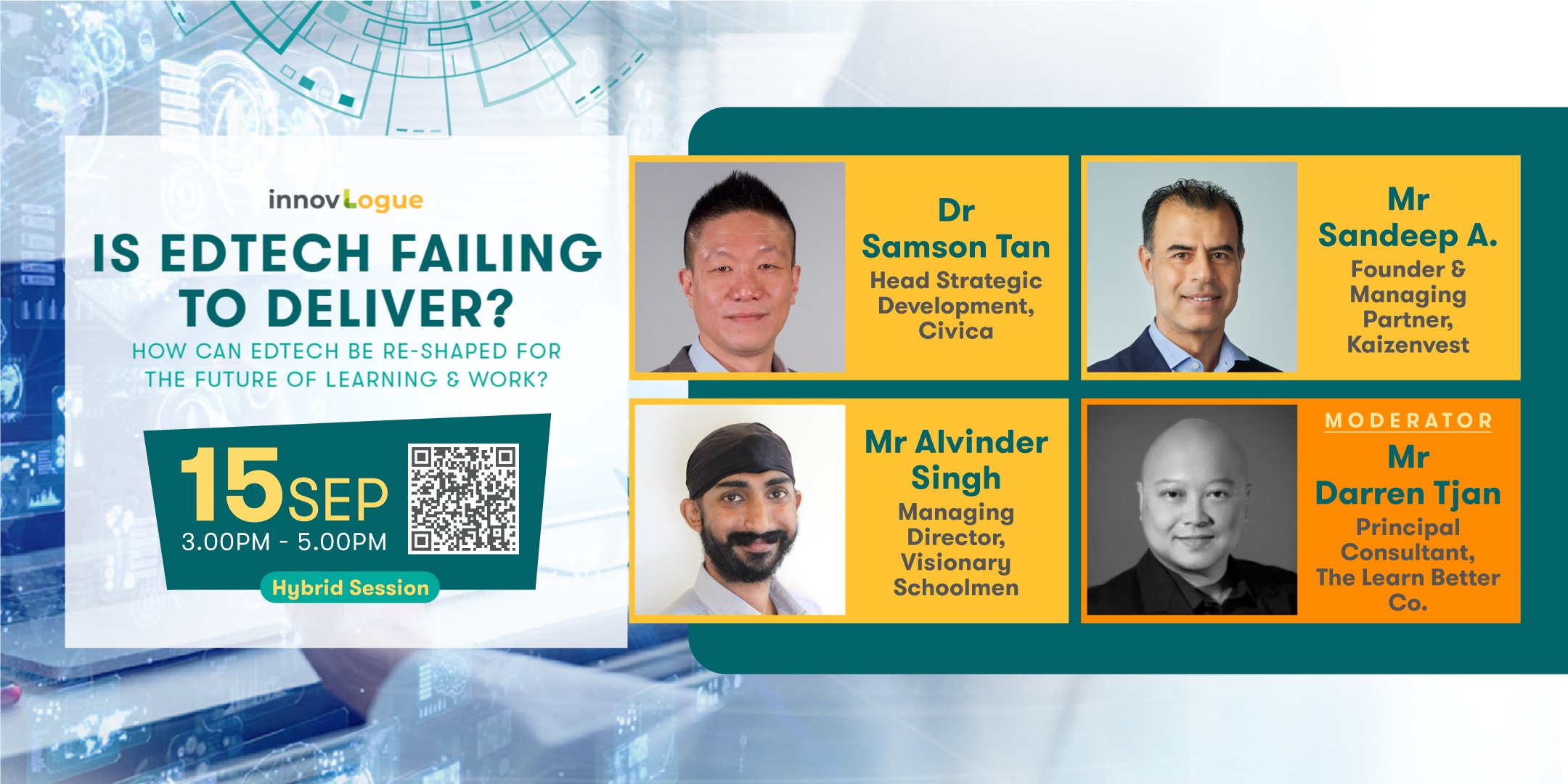 [WEBINAR ON-DEMAND] innovLogue: Is EdTech Failing to Deliver?
11 Eunos Road 8 #05-03 S408601 OR Zoom Webinar
[WEBINAR ON-DEMAND] innovLogue: Is EdTech Failing to Deliver?
Description
The global EdTech industry continues to grow exponentially, and is expected to reach USD 605 billion by 2027. But how much do we know about what actually works to impact learning outcomes? How well does current EdTech facilitate skill acquisition, and bridge the education-to-employment gap, amid constantly evolving workforce needs? Join us in examining the state of EdTech from a learning sciences perspective in this innovLogue session. Our panel discusses how to create solutions for real-world learning needs, offers tips on improving EdTech effectiveness, and more, all to boost learning and business performance!

TARGETED AUDIENCE:
- Adult Educators, Training Providers
- L&D / HR Professionals
- Learning / Instructional Designers
- LearnTech/EdTech Solutions Providers
- Large Corporates, Small & Medium Enterprises


---

SPEAKERS:

1. Dr Samson Tan, Head Strategic Development, Civica, Former Head, Centre for Innovation in Learning, NIE

An expert in learning sciences, strategy and lifelong learning, Dr Tan is committed to leading innovation and transforming education. He will share his views on the current state of the EdTech landscape and examine where it needs to go, adult learning needs in the 21st century, and the lessons from learning sciences on how EdTech could innovate.

---

2. Mr Sandeep A, Founder & Managing Partner, Kaizenvest

With a broad range of experience in consulting, operations and investment management, Mr Sandeep founded Kaizenvest, a leading education-focused asset management company, in 2009. He will focus on bringing EdTech up to market and education needs from a learning sciences perspective, linking it to performance and growth, and how to remain relevant to the needs of the digital workforce.

---

3. Mr Alvinder Singh, Managing Director, VisionarySchoolmen

As the MD of EdTech technology company Visionary Schoolmen, Mr Alvinder has evolved his company's EdTech product offerings, placing learning, skills and capability development at the forefront. He will share Visionary Schoolmen's journey -- the need for change, bringing value to the learning & development chain, learnings and analytics from the real world, and creating greater EdTech value for the workforce.

---

MODERATOR:

Mr. Darren Tjan, Principal Consultant, @The Learn Better Co.

With experience in Learning Design and Technology, Darren has consulted with and trained a wide range of individuals from both the public and private sectors. His insight into the challenges, needs and operational objectives of different organisations in different industries will help guide this innovLogue discussion and explore how EdTech can be used to greater effect in learning design.

---
REGISTER TO WATCH THIS WEBINAR ON-DEMAND:

Registration Link:
https://ialsg.zoom.us/webinar/register/WN_D3IpehJPSDqdc2u_9blTng

---